1F Modern Tsuruga: the City with the Rail Way and Port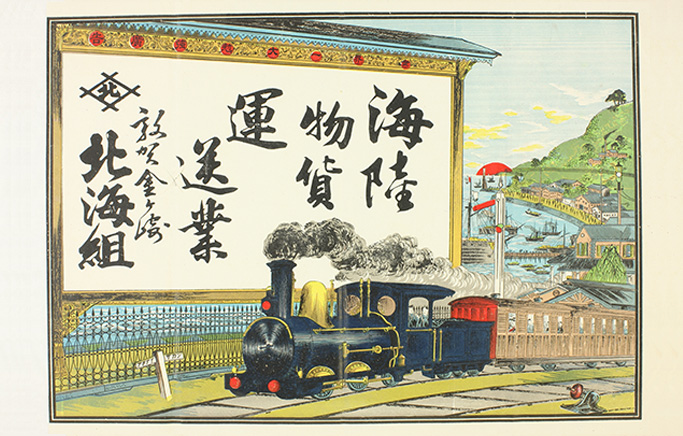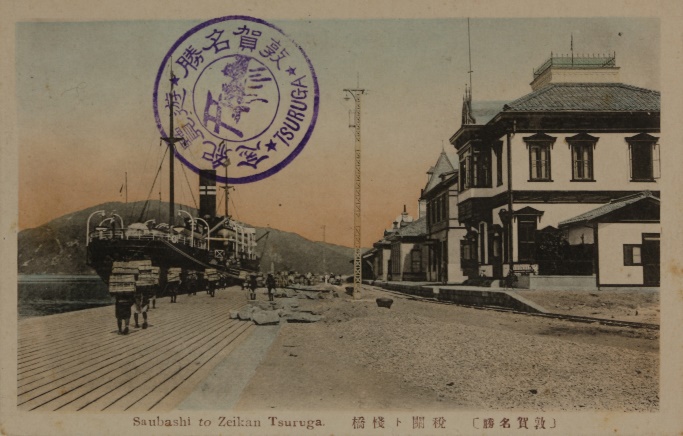 The city of Tsuruga is located between Tsuruga Bay and Lake Biwako. Since ancient times, it has played the important role of being a major commerce hub as it is a modern port city as well as well-connected to the railway.
Railroads were established in Japan in the Meiji era. The railway line connecting Tsuruga to Tokyo and Kobe through the Nagahama, Shiga Prefecture was built in 1889. This was the first railway line in the area adjoining the Sea of Japan and Tokyo.
In 1902, shipping routes between Tsuruga and Vladivostock, Russia, were opened, and in 1912, the Asia-Europe International Train started running from Shinbashi Station (Yokohama) to Kanegasaki Station (Tsuruga). The international railroad connected Tokyo to countries in Europe through the Tsuruga-Uladivostock route via ferries and the Trans-Siberian Railroad.
In that period, Tsuruga was the one of most developed towns in Japan as travel via the railway as well as port was possible in Tsuruga. Thus, considering the developments in Tsuruga, Owada Bank was established in Tsuruga by Owada Shoshichi.
The building used as the second main office of the Owada Bank has been transformed into a museum.
2F History
Tsuruga has a rich history. The development of the town corresponded with the progress of its port. The interesting points in Tsuruga's history are documented in a permanent exhibition room in the museum, and the exhibition is modified based on a theme that changes every season.
For a long time, the Tsuruga port has been used by a large number of ships as the port is located deep in the Tsuruga Bay. Tsuruga is also located between the Sea of Japan and Biwako lake. Many shipping companies in this area prospered along with other areas, such as Kansai and Tokai, utilizing the sea and lake routes for conducting business.
In the "Prehistory and Ancient Japan" exhibition, tools used by hunter-gatherers, burial accessories of the elite of the Kofun period, etc. are exhibited.
In the "Medieval and Early Modern Period," exhibition, documents, books, and replicas of votive tablets and pictures are exhibited.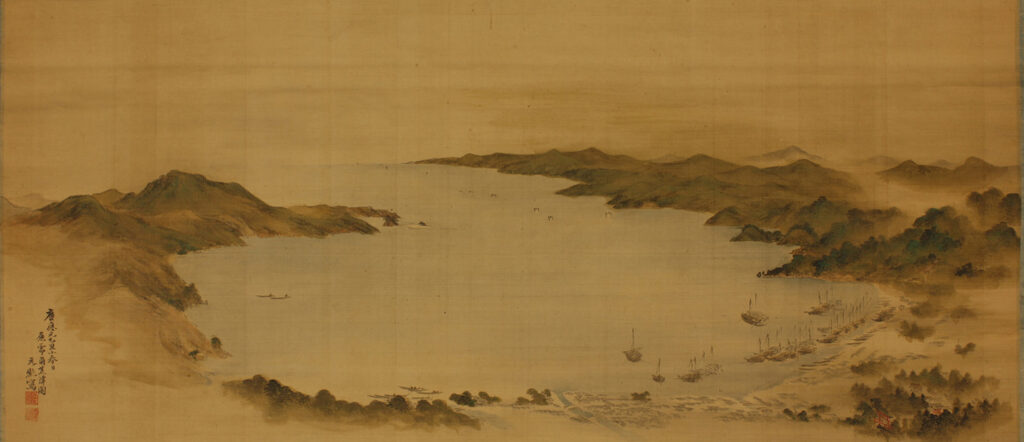 3F Arts
The art collection has a large number of pictures by local painters and by artists from Kyoto in the early modern and modern periods; crafts by local artists are also exhibited.
The museum has a permanent art exhibition, and about a dozen works, varying with the season are exhibited.
We hope that you enjoy viewing the works.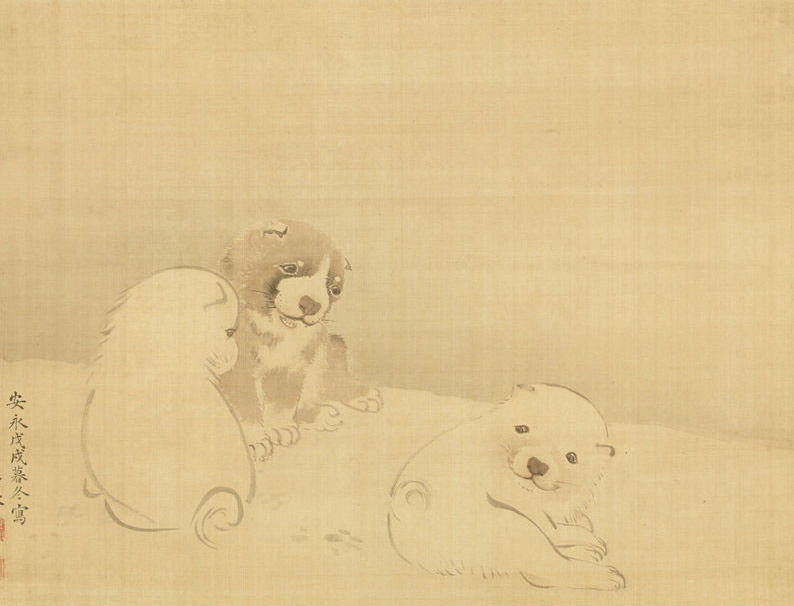 Puppies (「狗子図」Kushi zu ) by Maruyama Okyo (1733-1795)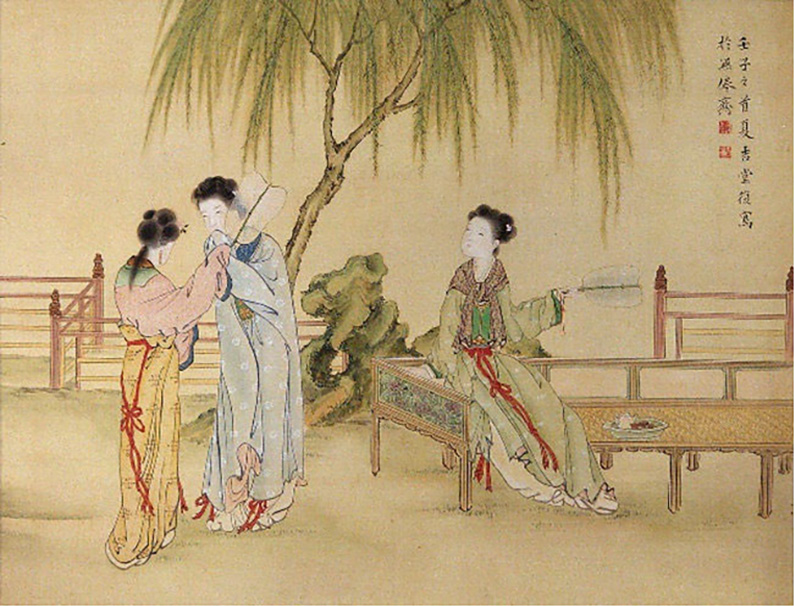 Chinese Beauties (「唐美人図」Karabijin zu ) by Utsumi Kichido (1849-1923)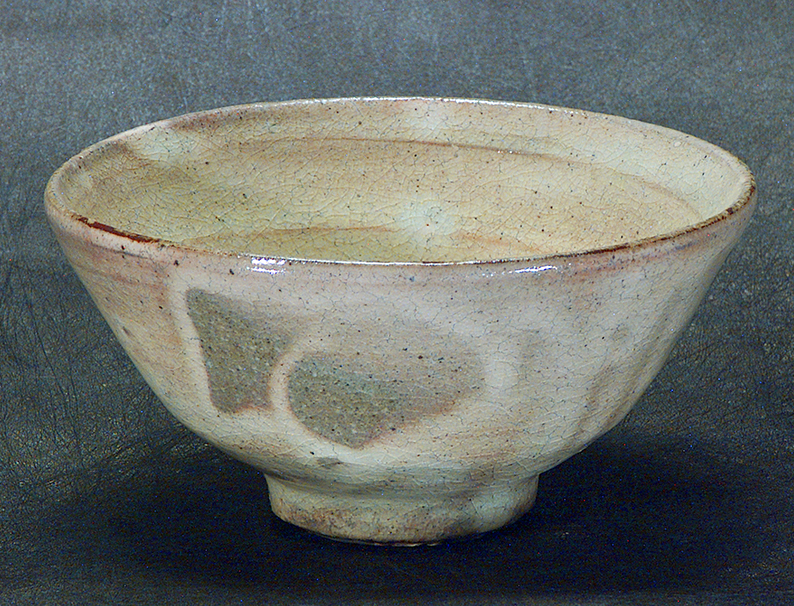 Tea Cup (「粉引茶碗」Kohiki Chawan ) by Kitamura Sakutaro (1894-1971)